Preventive Dentistry
6 Secrets to Smile Success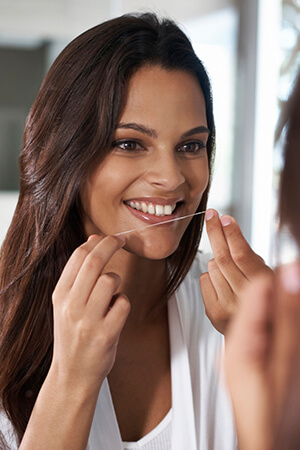 The cornerstone of maintaining optimal oral health lies in preventing oral disease and damage. We'll help you avoid oral health problems to improve the potential for keeping your natural smile long into your golden years – maybe for life! Modern dental innovations, combined with improved access to care, give us the opportunity to keep our mouths healthy and strong longer than ever before.
These six keys will go a long way toward a bright future for your smile… Consider them secrets to smile success!
1. Daily Brushing & Flossing!
2. Six-Month Checkups
Head & Neck Exam
Oral Cancer Screening
Periodontal/Gum Exam
Review Concerns
TMJ Analysis
Tooth-by-Tooth Inspection
X-Rays and Photographs
Treatment Planning Consultation if Necessary
3. Six-Month Cleanings
Consult with Hygienist or Dentist
Clean & Polish Teeth
Review Periodontal Health
Treatment Planning Consultation if Necessary
4. Follow Through Promptly with Treatment
5. Protect Your Smile
Athletic Mouthguard
Dental Sealants
Fluoride Supplements
Nightguard for Teeth Grinding/Clenching/TMJ Disorder
6. Daily Brushing & Flossing!